Compare Timeshare Rentals vs. Hotel Room Cost
Doing a search on Google (Orlando Hotel), turned up a website offering big discounts for hotel stays in Orlando. The website (universalorlando.com) had the Hard Rock Hotel for a total price of $1,532.90 for a 400 sq.ft room that sleeps 3 people. Here are the details of that room and pricing.
Looking at the timeshares sold page on TS Sales Team website, we see Ad # 12096, at the Sheraton Vistana Resort, which is also in Orlando, Florida. It rented for $800, which was a 2 bed, 2 bath and more than 1,000 sq. ft. and can sleep 6 people.
A savings of 52% !
Now lets compare staying at the same timeshare resort. Is it better to rent from the resort itself or from using TS Sales Team?
Real Actual Price Comparison

Timeshare
Sales Team
Rental

Westgate Flamingo Bay Club

Location
Ad # 13591
Westgate's company website
Bed/Bath
2/2
2/2
Week
float
July
Nightly Price
Starting $151 plus taxes
1 Week Price
$500
$987*
Fees
$0 - $125 **
$0
A savings of 50 %
(* This price is with discounts, you might not have or can use)
(** A Guest Pass will be required, however, this may be paid by the seller)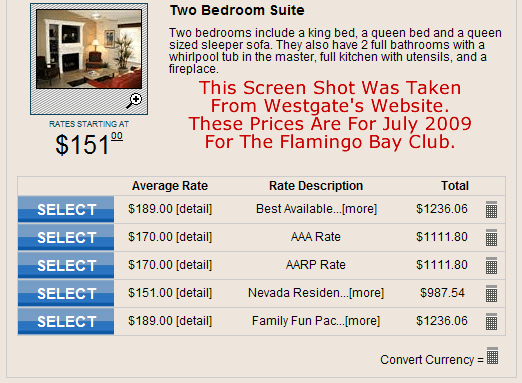 By no means, are we saying that other hotels or other accomodations are not quality, but we are saying, Renting a timeshare using TS Sales Team will save you a TON OF MONEY.
Not only will you save money, the quality of a timeshare unit is very similar to your own home. On your next vacation, do you want to stay at a hotel or do you want to stay in accomodations similar to your own house?
Rent a Timeshare Today !