Sell Timeshares
Just 3 Of The Many Proven

RESULTS

From Using Our Unique,
One-Of-A-Kind
Our Program Has PRODUCED Timeshare Resales In Less Than 1 Month And
Sold Over $9.5 MILLION
Here Is The Story Of Our Program, How It Works, And
How You Can Put It To Work For YOU
Dear Timeshare Owner,
You're about to go inside the sometimes twisted world of the Timeshare Resale Market.
And this is the truth, a real story about selling your timeshare.
WARNING: Things are said that others do not want you to know, especially when you ask...
How Do You Sell Your Timeshare Fast ?
There are only 2 main factors in selling a timeshare... NO MATTER what anyone else will say. When these two factors are used correctly, they will get your timeshare sold fast.
But before we go further, we need to set the record straight.
There are other timeshare resale companies that will tell you they sold 1,000s of timeshares or sold millions of dollars in timeshare resales.
And if I were you, I'd be wondering ...
Can I Sell My Timeshare Fast Or Are They Lying?
And you're absolutely right to ask that question.
Look, if we didn't promote and show you our performance reports to you, on our website, for everyone to see, there's no way we would believe it was true. In other words, we know how you feel.
So lets take a look at those reports. You will see with your own eyes exactly what our Program produces. HOWEVER, WE DO NOT APPROVE OR VOUCH FOR OTHER RESALE COMPANY STATEMENTS. In OUR reports, you will see the good, the bad and everything in between.
For the first time ever, you will get…
The Truth About Up Front Fee Timeshare Resale Companies
You might have heard or read other people bash, warn about or have been brain washed to stay away from upfront fee resale companies. Or maybe you even signed up with one in the past that did nothing for you!
So right now, I'm going to break it all down for you and show you what really
happens, where and how the money flows.
Let's begin.
First of all, you have company employees (sales staff, admin staff, closing staff, customer support, and IT staff), an office building, operating expenses, etc. Everything you would expect in a well run company.
Second you have advertising and marketing expenses, which is where the majority of the money is spent. There are many mediums we use to attract buyers, sellers and renters to our website.

We know full well that EVERY SELLER NEEDS A BUYER. Every renter needs an owner wanting to rent their timeshare. Without all 3 types of people, our business does not work.
You see, before your upfront fee is accepted, the majority of your fee has already been spent on getting Buyers, Renters, and Sellers to our site... (we don't just keep your money for ourselves)…
The Difference Is How Effective We Are
At Matching Buyers / Renters and Sellers
And once a match is made, you need to make sure the resale transaction or rental is completed.
So how do we do that? How does this help you?
Our employees make the difference. You must agree – customer service can make or break a company. When your buyer or renter calls us or inquires about a timeshare resort, the buyer needs a little hand-holding. They need to feel trust and assurance to buy a timeshare or rent a timeshare. The whole process must be easy and smooth for both parties.
This happens due to our employees (admin staff, attorney, closing department, customer service).
Our IT staff, marketing and advertising make our website work. It attracts buyers, renters and sellers. Everyone needs each other. And there is a price to make the whole process work. Our process is called the "No Closing Cost Program". It produces results for a fee. It produces confidence for a fee. It offers trust, assurance, and piece of mind for a fee.
You have heard the saying, "You Get What You Pay For".
This is no different.
So, what do you get?
You get our employees, our website, our No Closing Cost Program working for you full time, until you rent or sale your timeshare. You get exposure to our steady stream of qualified buyers and renters.
Here is what you get, in terms of our reporting that we proudly display on our site!
Buyer Report - People who are interested in buying a timeshare.
Search Report - People using our search page to find timeshare resorts.
Offer Report - People making offers to buy or rent a timeshare.
Sales Report - Our complete sales or rentals of timeshares.
We encourage you to look and ask questions about these reports. PLEASE COMPARE THEM with other timeshare resale companies ( if you can find them ).
How Do You Put Our Program To Work For You?
It Is Simple. The 2 factors you need in your favor are Timeshare Price and Demand For Your Timeshare.
If you own a popular timeshare and present it at a fair price, your odds of selling fast are dramatically increased. Selling or renting below fair price increases your odds even more.
About your timeshare price. What is a fair price for your timeshare?
How Much Is My Timeshare Worth ?
TS Sales Team, by law, can not tell you what to resale your timeshare for. However, we compiled industry data plus our data to provide information so you can value your timeshare. You can see this timeshare resale data now:
CLICK HERE -> My Timeshare Value It's free! It's immediately available for you.
Below is a Summary Illustration of how easy our
No Closing Cost Program can work for you.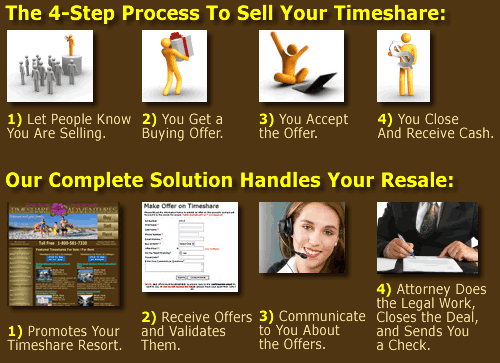 So Lets Get Started. You can put the No Closing Cost Program to work for you today!