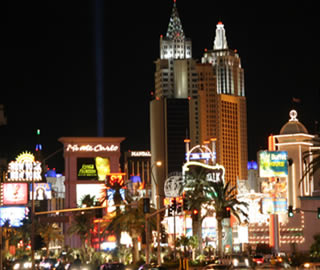 Did you know that Las Vegas once banned gambling? Back in 1911!
Or that there were 297 days of sunshine in America's vacation capital? Or that the Las Vegas strip isn't in Las Vegas? It's outside the city limits in Clark County.
First settled by Spanish traders when seeking a shorter route to Los Angeles, this desert wildflower oasis was a refuge for early travelers. Before the discovery of this well watered valley in the desert many, on the journey overland to Los Angeles known as the Spanish trail, had died. So many, the Spanish called it "Jornada de Muerte," or journey of death.
In 1815 Brigham Young sent a group of young Mormons to build an outpost in the valley, a fort, and to teach the Paiute Indians farming skills. It still stands on the corner of Washington Avenue and Las Vegas Boulevard. When the railroad went through in the late 1800's, it gave new life to this way station and for the next 25 years, it was a railroad town.
But when the town fathers relaxed the gaming laws for the Hoover Dam workers in1931, the town's future was decided. Gaming and divorce became the town's lifeblood until the early '90's. It was then that the industry's czars made the decision to provide entertainment for the entire family, in addition to the slot machines and crap tables. Entertainment in resorts and hotels that truly stagger the imagination.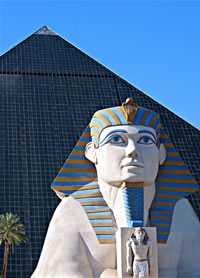 Like the Luxor, a 4400 room, 30-story pyramid, abutted by two 30-story columns, all swathed in bronze. This journey back in time to early Egypt will take your breath away. Biggest, largest, the world's only, are words that describe the Luxor. The gargantuan atrium for instance, the planet's largest, can house nine 747-sized aircraft. Atop the pyramid is our earth's most powerful beam of light. It is 40 billion candle power and visible from 10 miles in space. The five acres of manmade pools and beaches have sundecks and cabanas with refrigerators, telephones, entertainment centers, cushioned lounges, ceiling fans, and mist systems to keep you cool. You could spend an entire 7 day vacation at the Luxor and still not see or do everything you had planned.
And a Las Vegas timeshare property can be the ideal investment, paying for itself over six or seven years. To holiday in this family entertainment mecca in the desert, a Las Vegas timeshare rental can provide real savings in luxury surroundings.
Also, Las Vegas timeshare condominiums are hot properties for swapping. So if you want another vacation destination, one of the exchange companies can convert your Las Vegas week to a stay at one of the many thousands of timeshare resorts worldwide.
So whether you want to buy a Las Vegas timeshare or rent a Las Vegas timeshare property, contact Timeshare Sales Team, your Las Vegas connection.